The helicopters have played an important part in the oil business in the North Sea.

Big Sikorsky S-61N choppers arrived quite early.

At the cicture to the right you see the now veteran pilot Øyvind Breda in the cockpit of LN-ORE, ''Charlie'', named after Charlie Scholes, Aviation Director EXXON.

An other one, LN-ORH ''Dick'' named after Dick Løeffler, President for ESSO Exploration Norway, is also well known by the pioneers.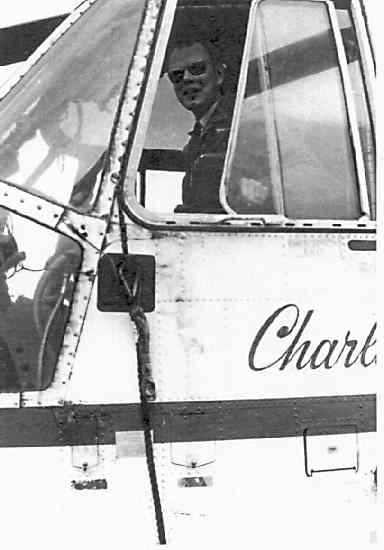 The first commercial helicopter flight in the Norwegian sector of the North Sea was the 18th. of July 1966 with ''Charlie''. And the pilot was of course Mike Boxill!

His task was to find Ocean Traveler 90 nautical miles out in the North Sea somewhere , with only one single radio beacon located ashore at Rott to guide him during the navigation. The trip was a success, he did find the Ocean Traveler.

The Sikorsky S-61N chopper he used, Charlie, was the same one he brought over from the USA few days before. That trip lasted 11 days from Connecticut via Montreal, Sept Iles, Schefferville, Fort Chimo, Frobisher Bay, Cape Dyer, Southern Strømfjord, Agmarsalik, Reykjavik, Hofn, Torshavn and then to Stavanger Aiport Sola.

Only a few days after the historical landing at the Ocean Traveler, Boxill once more settled for USA. He was no bringing home the Sikorsky chopper nuber two, ''Dick''. The helicopter was taken over The North Atlantic via Canada, Greenland, Island og Faroe Islands.

Both the two first choppers lived long in the North Sea. Now bothe the helicopters are flying in Spain for the Spanish rescue service.At regular interval they show up at Sola for general overhaul at Helikopter Service. Both have more than 40000 houres in the air each!!